Introduction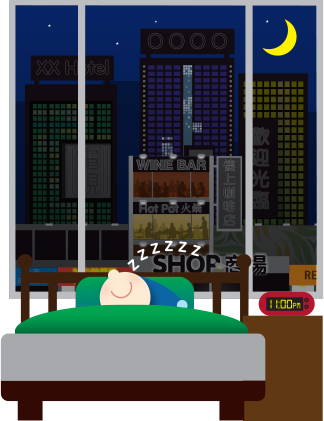 Charter on External Lighting
Charter on External Lighting
The Environment Bureau (ENB) launched the "Charter on External Lighting" (the "Charter") in April 2016 to invite owners of and responsible persons for external lighting installations to switch off lighting installations of decorative, promotional or advertising purposes which affect the outdoor environment during the preset time (i.e. 11 p.m. or midnight to 7 a.m. on the following day).
Purpose
Purpose
Minimise light nuisance: Due to the high building density in Hong Kong, external lighting at night will cause nuisance to nearby residents. To switch off unnecessary external lighting during the preset time can provide residents with an environment conducive to sleep.
Minimise energy wastage: To shorten the operating hours of external lighting can reduce energy consumption and save electricity.
Details of the switch-off requirement.
Target
Target
The following owners and responsible persons of external lighting installations are invited to sign up to the Charter –
Property management companies
Owners of advertising signs or advertising agencies that manage advertising signs
Hotels, shopping malls, shops, restaurants and public bodies and organisations with external lighting installations or signboards
Award scheme
Award scheme
The names of the Charter participants will be published on newspapers and Government websites.
Charter participants will be given certificates and stickers for display at participating shops.
Charter participants can apply to ENB for displaying Charter logo on their marketing materials.
Participants complying with the switch-off requirement will receive the following awards:
Platinum Award: switch off external lighting from 11 p.m. to 7 a.m. on the following day
Gold Award: switch off external lighting from midnight to 7 a.m. on the following day
Reasons for joining the Charter
Reasons for joining the Charter
Fulfill corporate social responsibility: Minimise light nuisance to nearby residents
Save energy: Join our Energy Saving for All campaign to combat climate change, and contribute to the target of reducing energy intensity by 40% by 2025
Save money on electricity: To reduce the electricity consumption of external lighting and to reduce electricity expenses
Develop and enhance their corporate image: Participating organisations will receive stickers, certificates and awards of the Charter
How to participate?
How to participate?
Organisations and shops that are interested in signing up to the Charter are invited to complete the reply slip. Should you have any queries, please refer to the frequently asked questions or email to: external_lighting@enb.gov.hk.